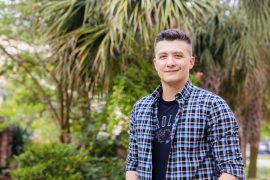 Ryan
is currently an LPC-Associate under the supervision of Andrea Alvarez. He graduated from the University of South Carolina with a master's in clinical mental health and recently moved to San Antonio. His counseling style is Adlerian, a humanistic approach, which focuses on encouragement, social and family connections and is goal-oriented. In addition to receiving a counseling degree, he also has a certificate in play therapy.
Before pursuing a career in counseling,
Ryan
worked as a journalist and in the media industry. However, he always dreamed of becoming a therapist.
Ryan
understands first-hand the impact therapy can have, as it helped change his life when he struggled with addiction. With the help of therapy and 12-step meetings,
Ryan
entered recovery in 2017. He credits his experiences of addiction, recovery, depression and codependency as motivating him to finally pursue a career in counseling.
Ryan
has experience working with a variety of clients, including military, LGBTQIA+, children ages 4+ and adults of unique backgrounds. He has worked with clients who have struggled with depression, trauma, addiction, sexual and gender identity, ADHD, bereavement and behavioral issues. Under the supervision of Andrea Alvarez, he is currently learning about evidence-based treatment for OCD and other disorders.