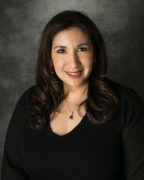 Andrea M. Alvarez, M.Ed., LPC-S, NCC is owner and Executive Director of AMA Behavioral Therapy, PLLC.
She opened her practice doors in 2009 and has steadily grown since. Andrea earned her licensure to supervise new therapists entering into the field. She earned her Bachelor of Science degree in Psychology from University of Houston and her graduate degree from UTPA and she has over 11 years licensure experience. Andrea provides services for clients in which she believes has the capacity to resolve their own problems with her assistance.
She assists client in exploring and resolving difficult life issues. She utilizes cognitive behavioral therapy techniques and provides structured sessions to maximize time and assist in meeting therapeutic goals identified in first session. She approaches therapy as a working relationship between client and therapist. Further, she understands the importance of bringing evidenced based therapy to her clients and continues professional development in assisting individuals with trichotillomania and other body focused repetitive behaviors.
She is a professional member of International OCD Foundation and has attended their professional development (BTTI) to continue evidence-based practice to assist clients with OCD with both cognitive behavioral therapy and exposure response prevention therapy. She is also a professional member of TLC Foundation.
This is what my office will look like when you come in for your appointment!